How to Create a Welcoming Party Atmosphere
You're excited to share the warmth of your home by hosting a party for your friends and loved ones. Just remember, the event doesn't have to be complicated to make your guests comfortable. Here are a few party prep ideas that keep the focus on quality time together.
Create Flow and Seating
Stand at the door where people will enter and look at your house from the guests' perspective.
Aim to create areas that flow, where it's easy to move from one space to the next and areas to gather, including seating for those who may need a rest. Keep in mind that guests have different personalities, so some may love to stand in the middle of it all while some prefer a more intimate conversation while seated in a side room.
When creating flow, ask yourself: Is there a place to hang raincoats in case of unexpected rain? Is there any furniture you can move out of the entryway, kitchen, or other places where people might naturally gather to talk? Could I easily move through this area if three or four people were standing around? When creating seating, consider arranging chairs along a wall in small u-shaped groupings. Consider pushing back large items, like couches, to allow for more room.
Add Fresh Flowers
Brighten up any season by adding a few simple vases of flowers or greenery to the tables at your party. Start by checking your yard or asking friendly neighbors if you can have a few sprigs of what is blooming close to home. In the winter, evergreen stems offer color and scent as interest.
Cut the stems longer than you think you need, this will give you more choices when arranging them into vases. Consider using empty bottles as vases and varying the heights of the flowers.
Worried about provoking sneezes? Here is a list of the best and worst flowers for allergy sufferers.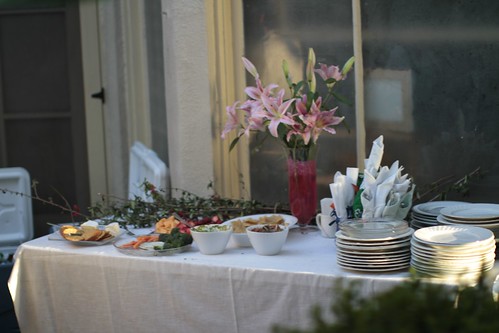 Image via Flickr by SupportPDX
Be Sensory Aware
Before you reach for your favorite scented candle or spray, be aware that some guests may be allergic. Your home doesn't need a heavy scent to be welcoming. The healthiest way to handle any stale or musty smells is with a pre-party home air quality inspection from Martin Enterprises Heating and Air Conditioning. Not only do your guests deserve clean air, so does your family.
Music and sound are party features that can overwhelm some guests. Consider if there's a side room with seating for people to take a breather. This space is best with a rug or carpet to absorb sound.
Ceiling fans with light kits can mimic a strobe light when on. People with epilepsy may need to avoid these. Consider keeping fans on a moderate speed to lessen the effect.
Your guests have come to spend time with you. So, whatever you do to prepare, be sure to leave time to prepare mentally to welcome your loved ones. Take three slow, deep breaths before opening the door. Smile and enjoy the memories.